Makita - Fixed-Base 2-hp Router RF1100
Makita offers a comparable fixed-base router with a 2-1/4 hp motor as model No. RF1101.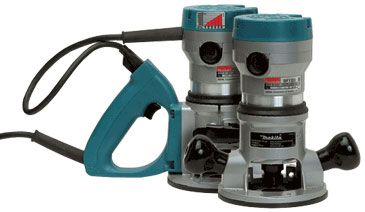 From FWW #243 (Nov./ Dec. 2014)
by Marc Adams
Power: 11 amps
Street price: $190
Cut quality: Excellent
Router accuracy: Good
Control and handling: Fair
Cut visibility: Good
Ease of bit changes: Good
The Makita had very little runout and produced very smooth cuts. The twist-style base is very easy to attach and detach for bit changes, and the collet is tightened with two wrenches. However, the 1-1/8-in. hole in the baseplate will need to be enlarged for bigger bits. Also, the router felt slightly top heavy, the grips were on the slippery side, and we had to let go of one handle to reach the on/off switch.

From FWW #150 (July/Aug. 2001)
by Tom Begnal
For all-around shop use, midsize routers make sense. At 2 hp to 2-1/4 hp, they have enough testosterone to handle most cuts without the bulk that can make bigger versions a chore to run freehand. I gathered all of the midsize fixed-base routers on the market and tested them in the Fine Woodworking shop. The test had three main parts. First, I considered the ergonomics of the routers, using them by hand and in a router table. Then I checked them for noise, runout, and vibration. And finally, I gave them a handheld run to see how effectively they plowed through wood.
This Makita router has a housing that slides smoothly and locks easily. It scored best in the noise and vibration tests compared to others in its category. And the opening in the subbase is small (a subbase with a larger opening is an option). The RF1100 has the switch on top of the motor, so when handholding the router, a hand must be removed from the handle to engage the switch. But the top-mounted switch becomes a plus when the router is in a table.