Delta - Disappearing Table Saw Splitter
The Disappearing Splitter, designed for right-tilting Delta Unisaws, helps with safety and never has to be removed.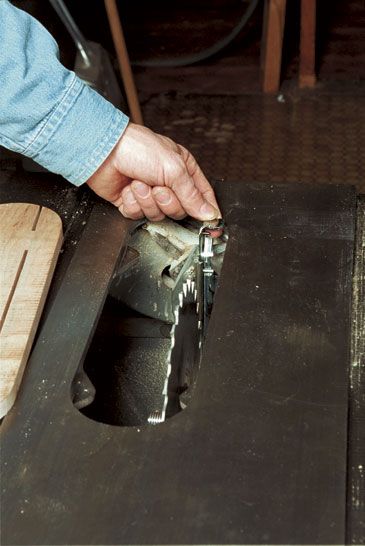 Easiest to use but fits only right-tilting Unisaws
The Disappearing Splitter never has to be removed, making it the most convenient of the three. The splitter is simply pushed down below the table surface when not needed. However, it fits only right-tilting Delta Unisaws.
The Disappearing Splitter was designed to fit the right-tilting Delta Unisaw as part of its Uniguard Blade Guard. The Uniguard has been discontinued in favor of the Deluxe Blade Guard.
What I have always liked about the Disappearing Splitter is its ease of use. It never has to be removed from the saw. The splitter simply is pushed down and out of the way.
Thin-kerf blades can be used with the Disappearing Splitter, but the splitter's thin and narrow body also allow it to be easily bent. This calls for caution when handling large or heavy workpieces. Another drawback of this splitter is that it fits only Delta Unisaws, and only right-tilting models.