Brown & Sharpe - Combination Square No. 599-438-1204-1
This multipurpose square from precision tools maker Brown & Sharpe features a square head, center head, and protractor and blade for a variety of measuring and layout applications.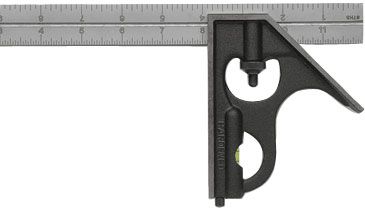 A combination square is a vital tool for performing the most basic shop operations, such as layout, marking, measuring, and machinery setup. Its versatility is unparalleled by any other single tool. The two main components of a combination square are the head and the blade?what manufacturers call a two-piece set?and that's all you get with most of the lower-priced tools. In the higher price brackets, the major brands offer center heads and protractor heads, resulting in a four-piece set, for about double the cost of the two-piece set. Fortunately, buying a combination square is likely to be a one-time purchase because all of the better models will outlast you.
The Brown & Sharpe was an exceptional tool—one of the best on the market. My only criticism is that the winged lockbolt dangled when the blade was removed, and it made reversing the blade difficult. The set is available in two parts or four parts.