The JDS Company - Accu-Miter Protractor-Style Miter Gauge
This is a heavy-duty cast-alumimum miter gauge that excels at cutting joinery and angles.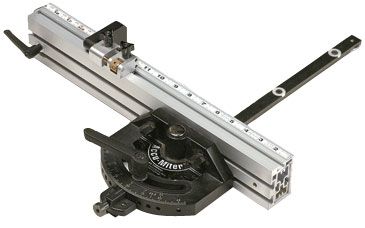 From FWW #244 (Tools & Shops 2015)
By Chris Gochnour
Street price: $230
Bar adjustment: Very good
Detent usability and range: Very good, detents at 0°, 15°, 22.5°, 30°, 45°
Fence quality/range: Excellent, 18 to 34 in.
Flip-stop quality: Excellent
Miter test: Excellent
Long stock test: Good (excellent with optional clamp)
Octagon test: Excellent
The traditional, protractor-style head on this robust gauge registers angle detents solidly with a spring-loaded pin. The sturdy telescoping fence holds stock well, and it comes with a microadjustable flip-stop and a flip-down stop on the end of the telescoping section. The rigidity of the fence and the weight of the head ensured extra-smooth action.
From FWW #165 (September/October 2003)

By Tim Albers
The JDS miter gauge is a big, heavy workhorse. The cast-aluminum head was solid as well as flat and straight. The steel guide bar has split nylon washers for adjustment. The Accu-Miter requires assembly and setup before it can be used, but the procedure was straightforward. The fence and simple stop can extend to 34 in., and the flip stop was accurate.
This was the heaviest tool in the test group to handle, weighing in at 11 lb. However, I found its extra weight and rigidity a bonus when cutting joinery and angles.
The only shortcoming of the Accu-Miter is the fact that its angle markings are cast into the head. This makes them large and easy to read but imprecise compared with some others. Also, it comes with a workpiece clamp, but I found it to be awkward, so I removed it.