DeWalt - 3-in. by 21-in. Belt Sander DW433K
DeWalt's 3-in. by 21-in belt sander features a variable-speed motor with optional dust collection shut off.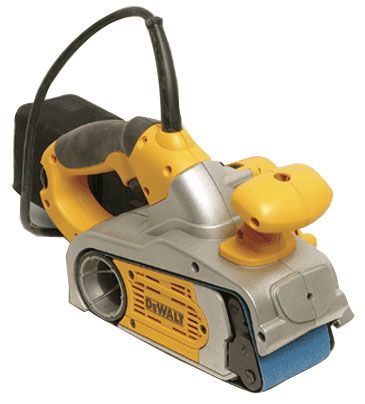 According to belt-sander manufacturers, the biggest sellers are the 3-in. by 21-in. models, so we decided to take a close look at what's available. The good news is that we didn't find any glaring performance problems, which made it difficult to pick clear winners. To rate stock-removal and dust-collection effectiveness, each sander and sample board were weighed before and after a timed run. At the end, the difference between the weight of the board and the machine (plus dust bag) indicated how much sawdust was collected, expressed as a percentage. The most innovative of the machines tested, the DeWalt has three belt rollers, including a 1-in.-dia. wheel at the nose of the tool for scribing tight curves. It had the fastest stock-removal rate, but its dust collection was the least effective at 70%.