Curved Stretcher Adds Grace and Legroom
Leaving the stock extra long until the last moment can compensate for unforeseen discrepancies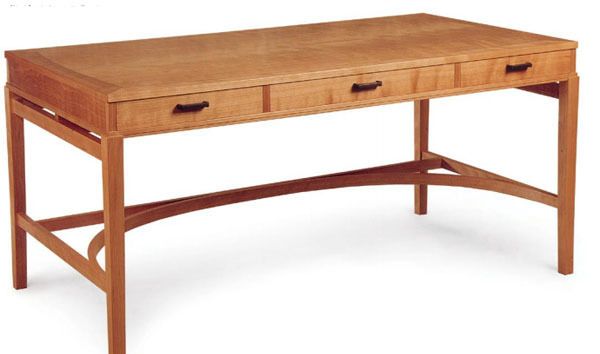 Synopsis: Furniture maker Mark Edmundson explains how to make a bent-laminated curved stretcher that can lend graceful lines as well as ample legroom to a table or desk. Step-by-step instructions detail laying out the curve, preparing the form, gluing the lamination, selecting the joinery, cutting the splice joints, and finally, gluing the stretcher to the legs.
The first time I saw bent-laminated stretchers was on furniture made by Edward Barnsley. He used this detail with success on everything from chairs to dining room tables. I admired the combination of graceful lines and the practical benefit of ample legroom. The bent-laminated stretcher struck me as a detail that would get attention, but in a subtle way. It also looked like it would be a challenge to construct.
When I finally slipped it into a design for a bench, I anticipated some frustration. However, as I built that piece and others like…
Start your 14-day FREE trial to continue reading this story.