Shopmade Slot Mortiser
Use your router to cut mortises with speed and accuracy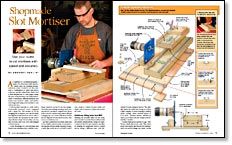 Synopsis: Shopping for a commercial slot mortiser was a shock for Gregory Paolini's pocketbook. So Paolini, who cuts countless mortise-and-tenon joints for the Arts and Crafts-style furniture he builds, decided to make his own. His adjustable mortiser is reliable and accurate, simple to make, and cuts mortises with ease.
As a member of a professional guild, I make a lot of Arts and Crafts style furniture, and I cut countless mortiseand-tenon joints. I used to cut the joints with a combination of hand and power tools, but I quickly realized that I had to find a more efficient way if I was going to keep the price of my furniture out of the stratosphere. I tried many different methods, but when I saw furniture maker and teacher Gary Rogowski using a slot mortiser, I was sold on the idea.
A slot mortiser basically is a table with a horizontally mounted router equipped with a spiral bit. The mortise is cut by plunging the workpiece into the bit while moving the workpiece from side to side to bore its width. Slot mortisers are the choice of production shops because they are very fast, accurate, and work well with integral or loose tenons.
I went shopping for a slot mortiser and found some machines that could do everything I needed—except fit into my budget. Prices for joint-making machines and commercial slot mortisers ranged from about $450 to $2,600, and in some cases I still had to supply my own router. Talk about sticker shock. I figured, for that much money, why not try to make my own.
Like the commercial machines, mine had to be reliable and accurate. It needed to incorporate a horizontally mounted router, a table that could move on both X and Y axes, stops to control mortise width and depth, and a system to index and secure my work.
Build heavy sliding tables from MDF
Building the movable table was the tricky part. I needed a system that would provide movement independently along two axes. I achieved the X-Y movement I was after by making two platforms, each of which moves along a different axis, with aluminum T-tracks riding in dadoes. The table also had to be stable and strong, as well as a little weighty, to resist jumping or jerking when cutting. Three stacked layers of 3 ⁄4-in.-thick medium-density fiberboard (MDF) provided both the weight and the stability I needed.
T-tracks make great runners for jigs. They fit into a dado that is 3 ⁄4 in. wide. They don't swell and shrink like hardwood runners. And you can bolt things onto them—in this case, I bolted a couple of MDF blocks that act as stops to limit platform travel in each direction. Additionally, the T-track I used can accept standard 1 ⁄4-in. by 20-tpi bolts, which keeps hardware and fastener costs to a minimum. Some brands of T-tracks require you to buy specialty hardware.
From Fine Woodworking #174
For the full article, download the PDF below:
View PDF