Craftsman - Belt Sander 3-in. by 21-in. 315.117270
The Craftsman 3-in. by 21-in. belt sander features a variable-speed motor with flush sanding capabilities.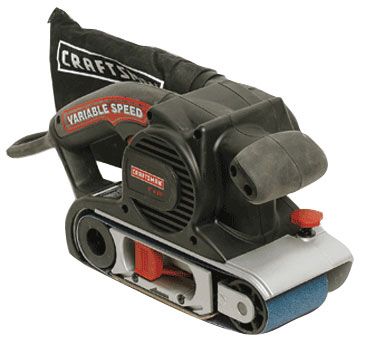 According to belt-sander manufacturers, the biggest sellers are the 3-in. by 21-in. models, so we decided to take a close look at what's available. The good news is that we didn't find any glaring performance problems, which made it difficult to pick clear winners. To rate stock-removal and dust-collection effectiveness, each sander and sample board were weighed before and after a timed run. At the end, the difference between the weight of the board and the machine (plus dust bag) indicated how much sawdust was collected, expressed as a percentage. The Craftsman has a large, easy-to-grasp lever that made for smooth belt tensioning, and the variable-speed control was easy to adjust without releasing the trigger. The small dust bag was effective, but its rigid support arm sometimes got in the way. Dust collection effectiveness was 88%.