Low-Cost Shop Floor
Plywood laid over 2x4 sleepers makes a concrete floor easier on your body and tools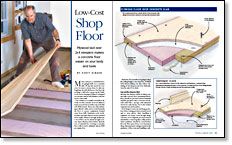 Synopsis: Concrete is hard on everything: feet, legs, back, and tools. That's why it's not always the best solution for a workshop floor. In this article, Scott Gibson gives detailed, step-by-step directions on how to lay a wood floor over concrete to make a surface that is ergonomic, clean, warm, and dry.
Many a shop is a converted twocar garage built on a concrete slab. I'll say this much for concrete: It's easy to sweep clean. It's also unforgiving. By mid-afternoon, feet hurt. By evening, a dull ache creeps up the back. Tools can be damaged if they're dropped on concrete. And in cold climates, concrete can be a heat sink.
One solution is to install a wood floor directly over the concrete. A wood surface is easier on your feet as well as any tools that roll off the bench. There are other advantages. Electric cable can be routed beneath the floor to power equipment located away from walls. Stationary tools, workbenches and other fixtures can be screwed down easily. If there is enough headroom, a wood floor can be raised enough to locate dust-collection ducts below. And the cost of material for covering a concrete floor with wood is minimal—about $1.60 per square foot.
However, if a wood floor is going to drop the ceiling height to less than 8 ft., I'd think twice about adding one. But a floor consisting of 2×4 sleepers and 3 ⁄4-in.-thick plywood is only 21 ⁄4 in. thick.
Lay out the sleepers first
Because the sleepers will be in direct contact with concrete (for a permanent floor), they should be pressure-treated material rated for ground contact. Concrete can absorb water like a sponge, and untreated wood not only decays, but it also invites carpenter ants and termites.
Don't forget to wear eye and lung protection when cutting pressure-treated wood and to wear gloves when handling it (splinters are nasty). Even though damp concrete won't degrade pressure-treated material for a very long time, really serious water problems should be cured before the new floor goes down. In a basement shop, that may mean cutting a trench at the perimeter of the room and installing a sub-surface drain system and sump pump. Better to do that now.
From Fine Woodworking #160
For the full article, download the PDF below:
View PDF