Four Ways to Get Organized
Plain, fancy, simple or clever -- there's a storage concept to fit your needs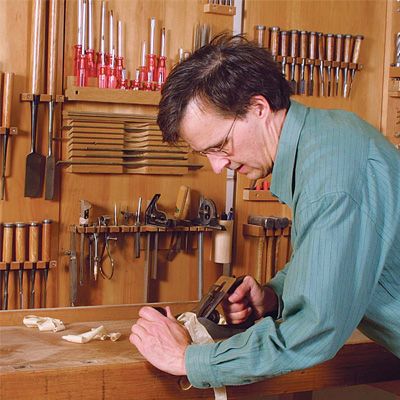 A snapshots of four woodworkers' spaces show unique and innovative ways to organize your shop. From elegant cabinets that were rescued from the kitchen to movable tool racks, revolving tool racks, and ideas on how to use wasted space, these authors make many useful and specific suggestions for getting organized.
Woodworkers who are passionate about their craft spend a lot of time in their shops, perhaps more than in any other room of their homes. It's no surprise, then, that many woodworkers go out of their way to set up a comfortable, organized, even elegant workspace. You can tell from the way these craftsmen have set up their shops that they take great pride in their work. Following are snapshots from four shops scattered coast to coast that show the creativity of their owners. We hope they inspire you to make your shop a better place to work.
Tool storage chests and cabinets are an ancient and respected art form worthy of our best efforts. Besides their obvious usefulness, well-designed toolboxes allow craftsmen to test and demonstrate their skills. I can't help but think that these works also provide their makers with great satisfaction and enjoyment.
I know that shops are usually works in progress, constantly evolving to meet new requirements. Therefore, when designing my present shop, I tried to make things adjustable, convertible or adaptable to mitigate the scarring of the shop that inevitably results from perpetual changes. However, I still wanted the workbench and tool cabinets to be permanent fixtures and placed them along a wall, freeing up the center of the shop for my tablesaw.
The 10-in.-deep by 144-in.-wide by 45-in.-high tool cabinet over the workbench is, without a doubt, the focal point of the shop. It features six maple raised frame-and-panel doors with walnut splined corners. The case is topped with a high crown cornice with two maple crown moldings accented with black walnut trim. The fluted pilasters separating the three sections of the cabinet have corbels at the top supporting the cornice. A small pullout shelf at the bottom of each pilaster keeps my coffee cup off the workbench. One of the pilasters houses a 4-in. dust-collection duct.
From Fine Woodworking #160
For the full article, download the PDF below:
View PDF