Dream Shop in the Woods
Built specifically for woodworking, this shop meets the needs of two busy furniture makers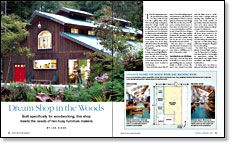 Synopsis: Two furniture makers designed and built their dream shop in the woods of California. Most people who happen upon it mistake it for a gallery. The authors discuss the process and rationale for building this unique and functional workspace. Floor plans and extensive photographs of details and overall spaces showcase this incredible shop.
The first impression people get when they enter our shop is that it looks more like a gallery than a shop. With artwork, large workspaces, whimsical design details and shining, clean floors, our shop is not like the cozy dens that many woodworkers use. It is, however, an efficient and comfortable place to work. As full-time custom furniture makers, my business partner Harry Van Ornum and I use every square foot of our shop, called Four Sisters Woodworking (inspired by a quirky Victorian photograph).
We've designed the space to be large, open and light-filled because that's the kind of environment we like to work in. Our shop is also the culmination of lessons learned from the poorly made shops we've worked in over the years.
Harry and I have more than 40 years of woodworking experience between us. We started our partnership in 1995 in a leased space in downtown Fort Bragg, Calif. We ran that shop for five years, renting bench space to four other woodworkers. It got to be a very busy place, and Harry and I found we were doing a lot of things other than making furniture. We decided to sell the place and build a perfect shop just for the two of us, leaving the landlord hassle behind.
This new shop is a unique and functional workspace (see the floor plan below). It comes very close to fulfilling our vision of the perfect shop.
Learning from our old shops
Years ago, I had my first shop in Florida in a corner of a storage building that was used primarily to shelter a boat. The space was cramped and dirty and left little room to work. Next came a garage with an awning that enabled me to move my work outside on good days. Harry also had some very poor shop spaces, the most notable being an unheated space in Minnesota.
The common denominator of all those shops seemed to be that none of them were designed for, or dedicated to, woodworking. We made buildings into woodworking shops rather than designed a shop just for woodworking.
Our ideal shop would have plenty of natural light, easy access for large pieces of lumber and sheet goods to be brought in, appropriate wiring for three-phase and single-phase machines, and finally, a comfortable floor.
From Fine Woodworking #160
For the full article, download the PDF below:
View PDF