Ryobi - Radial-Arm Saw 922038 (Sears)
Ryobi no longer produces a radial arm saw.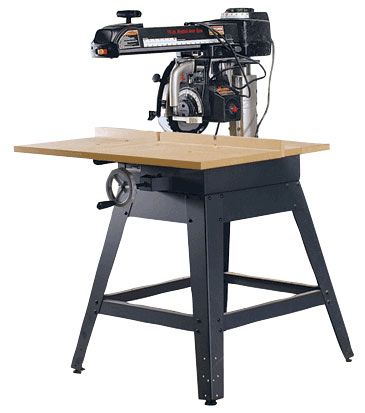 The Sears saw, made by Ryobi Technologies in Mauldin, S.C., is similar in design to that of the Ridgid saw, with one notable exception called the "control cut device." The saw comes with a comprehensive owner's manual, clearly written and illustrated. I ran into trouble at one point trying to remove the blade guard, which had been installed at the factory. I called the consumer help line listed and got immediate and competent help to solve the problem.
The Sears saw had no trouble chewing through solid lumber and plywood with the stock carbide-tipped blade. The blade guard is a substantial combination of metal and plastic, and you have to loosen and remove it in stages to change the blade, which can be a less-than-smooth operation. The automatic brake was quick to stop the spinning blade (four seconds) after power was cut off.
The control cut device on this saw is certainly unique and worth mentioning here. The device consists of a steel cable controlled by a separate motor (with its own plug), which limits the forward travel of the saw and keeps a steady tension on the yoke assembly. You turn the sawblade on and off with a switch at the front of the overhead arm, but the control cut device is switched by a trigger on the yoke handle. Speed of travel is regulated with a thumb dial also located on the top of the yoke handle. The dial offers three settings from 6 ft. to 35 ft. per minute. Clearly this device was installed as a safety feature to eliminate the risk of a sawblade jumping toward the operator. However, I've never had any trouble keeping a firm control over radial-arm saw crosscuts, and I found this device too restrictive.