Franklin International - HiPURformer Advanced Bonding Hot Glue System
Titebond's quick-setting system is handy for gluing small, hard-to-clamp parts like moldings and miters.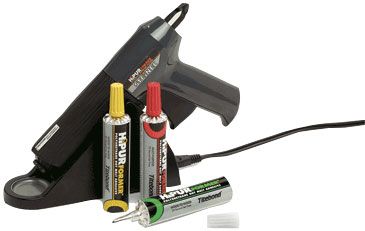 The last time I tried using a conventional hot-glue gun on wood, I swore I'd never do it again. The bond was pretty weak, and common wood stain softened the glue. A new polyurethane hot glue, however, shows promise.
The HiPURformer Advanced Bonding System is the result of a partnership between Franklin, the people who make Titebond glue, and the German tool manufacturer Steinel. Hot polyurethane adhesives have been around for a few years, but it took a new generation of compact applicators to make them practical for the small shop.
A support stand serves as the heat source for the gun. Once heated, the gun stays hot for about 15 minutes of cordless operation before needing to be reheated. It takes about 20 minutes to heat the adhesive from cold.
Three glues are available, identified by the time they take to set. The 30-second glue is for normal woodworking, and it's a great substitute for plain wood glue. I especially like it for difficult-to-clamp situations, such as mitered crown moldings. Imagine being able to hold the pieces together for 30 seconds and then moving on to the next step, without all that overnight clamping to slow you down. The 60-second formula is a little thicker and has some gap-filling ability—good for joints that may be less than perfect. The 75-second glue is for nonwoods like metal, plastic, and glass. All formulas are waterproof.
I've used this gun a lot around the shop to make quick repairs and connect a joint. As for strength, Franklin claims the hot glue is about half the strength of regular Titebond glue. To find out if that's strong enough, I did 12 double tests on side-grain red oak, plus a few more on miters and end grain. Failures were about as expected: The hot glue failed before the regular Titebond, and joints with a gap failed before those with no gap.
But, most significantly, on every side-grain test, the glue was strong enough to tear out some wood. And failure was directly related to glue coverage.
According to Franklin, a 1-in.-long glue bead is sufficient for a 4-sq.-in. clamped joint. The kit includes three glue cartridges.