Ipé
Often marketed as a teak substitute, this strong wood is good enough for more than decking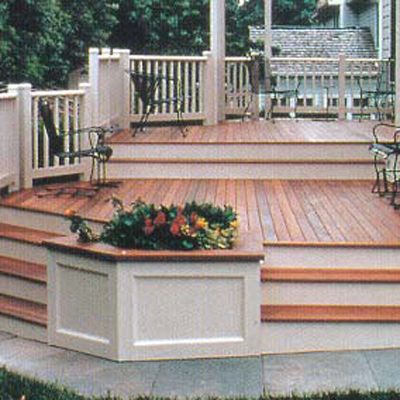 Synopsis: One mystery with ipé is how a single wood can vary so much in color from sample to sample. It ranges from olive-drab to lustrous chocolate brown. The answer is in its anatomy, botany, and chemistry, according to wood scientist Jon Arno, who writes about its origin and uses. Although mostly used in the United States as decking, in the tropics, where it grows, it's a major player — from heavy construction to furniture veneers. Arno offers information on how to best mill ipé and on its drawbacks.
A few months ago, a customer came to our lumberyard in search of some decking. We stock only treated pine and western red cedar for this purpose, but he was emphatic about wanting something more wear resistant and durable. I gave him price quotes on teak and ipé. He wisely opted for ipé, and I had the material shipped directly to him from our supplier. It was a done deal until several days later when he returned with a board in hand. He wanted to know what kind of wood they'd mistakenly mixed in with his shipment of ipé. I assured him that the lustrous and beautifully figured, chocolate-brown sample he held was every bit as much an example of ipé as the olive-drab boards that made up the rest of the load. That greenish color seems to have given American woodworkers a bad case of tunnel vision when it comes to what ipé is and what it's good for. We may think it's good only for decking, but nothing could be further from the truth. The mystery is how a single wood could vary so much from sample to sample. The answer is steeped in botany and chemistry, and this wood deserves a closer look.
Ipé comes from more than one tree
The imported wood we refer to here in the United States as ipé is cut from more than a dozen species belonging to the genus Tabebuia. This genus belongs to the same botanical family as our native catalpa: Bignoniaceae, usually referred to as the Trumpet Creeper family because of its many and often attractive flowering vines. While the family is not a major player in the flora of temperate North America, it is well represented in the tropics, where Tabebuia is its most important timber-producing genus.
Although in the United States ipé has been sold primarily as decking material, these many Tabebuia species are among the most plentiful and useful of all the timbers within their native range. They're used for everything from heavy construction to fine furniture veneers. These woods are so varied in their texture, density and appearance that the lumber industry sorts them into somewhat loose categories based on the properties of the wood rather than by the species that produce them.
In terms of developing a positive image, ordinary ipé decking is the worst ambassador the Tabebuia genus could send abroad. But virtually all members of this genus, even many of the species that normally produce the sort of grayish-green ipé, have the potential to produce stunningly beautiful woods when growing conditions are just right. The keys to beauty in this case rest with both the wood's anatomy and its chemistry.
From Fine Woodworking #156
For the full article, download the PDF below:
View PDF