Woodhaven - Biscuit Master
Woodhaven's Biscuit Master helps to make safer biscuit slots in narrow stock.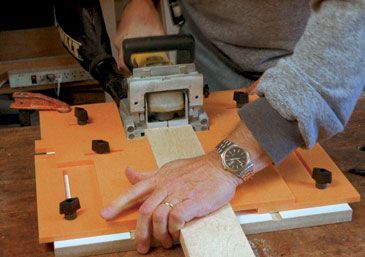 Using a biscuit joiner to cut a slot in the end or edge of narrow stock can be dangerous unless there's some means of holding the work securely. I've seen woodworkers hold a narrow board by wrapping their fingers around the biscuit-joiner fence and then pushing the board tight to the blade housing. But that's risky, because a kickback could easily send the workpiece flying and pull fingers into the cutter. Kickback is also a concern when cutting slots in the end grain of narrow boards. It could toss the end of the board away from the cutter, damaging the workpiece or the user's hand.
A jig from Woodhaven—the Biscuit Master—helps make it safer to cut slots in narrow stock. Slots in the base accept aluminum guides that are glued to polyethylene fences. Two of these fences enclose the biscuit joiner. The remaining four fences combine to form two units that secure the workpiece at a right angle or parallel to the base of the biscuit joiner. And a T-rail in the base allows the jig to accept mitered stock.
I used the jig to slot the ends of several 3-in.-wide pieces. The jig effectively held each piece, preventing it from kicking out to the side. I also edge-slotted some 1-in.-wide stock and enjoyed the fact that my hands were nowhere near the whirling cutter.
However, there's no way to clamp the workpiece to the base or fences. So even though the workpiece can't kick off to the side, it can still slide away from the cutter when slotting the end or kick back when slotting an edge.
Hand pressure on the workpiece can minimize such movement. But because both the melamine-coated base and the fences are slippery, it takes quite a bit of downward force to keep the workpiece from sliding away from the blade as the slot is cut.
Another inconvenience, albeit a slighter one, is that the slot height registers off the base. So when slotting boards thicker than 3/4 in., I had to put shims under the joiner to center the slot.
Despite these drawbacks, I enjoyed the fact that narrow stock can be safely slotted without elaborate setups. If Woodhaven can find some way to securely hold the workpiece in the jig, this would be a must-have tool for any shop that uses biscuit joinery.