Ridgid - 14-in. Bandsaw BS-1400
The Ridgid 14-in. bandsaw features a 3/4-hp motor, a cast-iron table and frame, built-in dust collection, and onboard storage for an additional blade.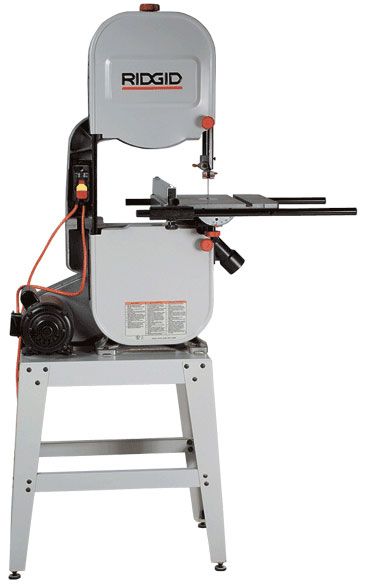 It's easy to find a variety of 14-in. bandsaws on the market; the key is how to find the one that's right for you. Tom Begnal and John White of Fine Woodworking checked nine popular models for wheel roundness, alignment, blade tension, and table flatness. They also evaluated the bandsaws for general quality of basic components, ease of blade installation, and how well related controls and adjustments work. Test cuts completed the judging process to see how they did at resawing stock and cutting curves.
The bandsaw is a versatile tool that rips, resaws, crosscuts, and cuts curves. And when the table is tilted, it makes all kinds of angle cuts, too. Plus it can be used to cut tenons, dovetails, and various other joints. The 14-in. size is good for most small shops, so we decided to test nine popular models on the market, evaluating them for wheel roundness, alignment, blade tension, and table flatness.
All things considered, the Ridgid bandsaw was the best value of the bunch. It tied with the Jet for the highest marks when it came to ease of blade changing. The wheels aligned perfectly. It was the only cast-iron saw that could be tensioned to 15,000 psi, and the fit and finish almost matched that of the Delta and Jet. It made acceptable cuts and has a decent fence, but blade-drift adjustment is limited.
Read the full review comparing almost a dozen 14-in bandsaws here.