Craftsman - 14-in. Bandsaw 22414
Craftsman's 14-in. bandsaw is now available as model #22424, which features the same 1-1/2 hp motor, a lower wheel tire cleaning brush, non-metallic blade guides, and a storage cabinet stand.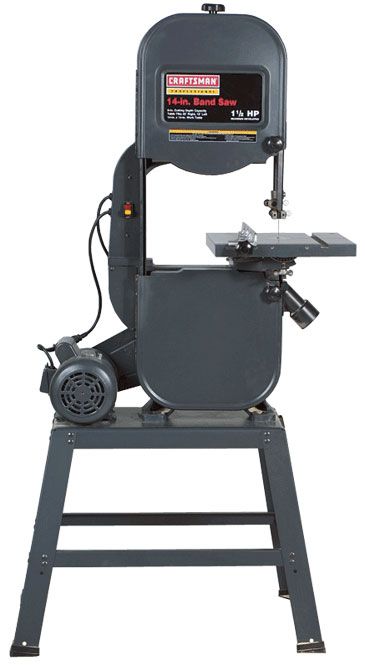 The bandsaw is a versatile tool that rips, resaws, crosscuts, and cuts curves. And when the table is tilted, it makes all kinds of angle cuts, too. Plus it can be used to cut tenons, dovetails, and various other joints. The 14-in. size is good for most small shops, so we decided to test nine popular models on the market, evaluating them for wheel roundness, alignment, blade tension, and table flatness.
The Craftsman saw is a close cousin to the Grizzly, but it sells for almost 60% more. In the tension test, the Craftsman yielded 10,000 psi, slightly under the average of 11,225 psi. All of the test cuts were acceptable, but when resawing, the motor bogged down when stock was fed too fast. Its resaw capacity measured 6-1/4 in., best among all of the cast-iron saws. The fence can't be adjusted for drift.