Jet - Oscillating Spindle Sander JOVS-10
Jet's oscillating spindle sander feratures a 1-hp motor, 10 removable spindles of various sizes, and a 24-in.-square cast-iron table.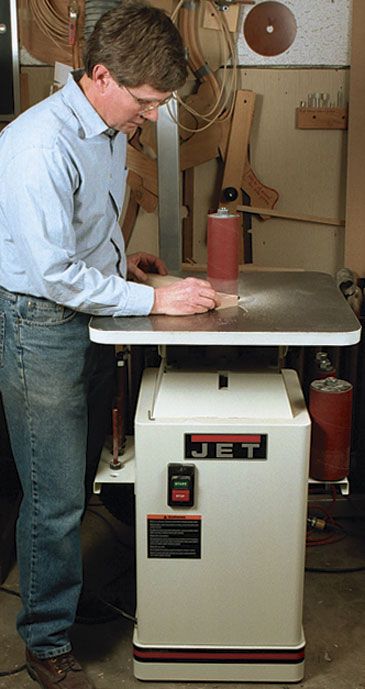 I spend a lot of time sanding the edges of curved stock. Over the years I've managed to get the job done using an assortment of drill-press-mounted spindle sanders and even some homemade sanders. Yet none really produced the quality I needed.
Now, however, my edge-sanding problems are a thing of the past. That's because I recently purchased an oscillating spindle sander from Jet, model JOVS-10. And I couldn't be more pleased.
The large, 24-in.-square, cast-iron table is mounted on sturdy trunnions, which in turn are mounted on a stout one-piece steel stand. The table easily tilts to 45° and locks securely in place. The spindle support runs on ball bearings. And the worm-and-gear mechanism that oscillates the spindle runs in an oil bath.
Overall, the sander operates smoothly and quietly. The 1-hp motor gives this sander plenty of power. A 1-1/2-in. stroke and 75 oscillations per minute ensure quick sanding with little clogging of the abrasive. Sanding marks are minimal. And, thanks to a built-in port, it takes little effort to connect a hose for a dust collector.
The JOVS-10 comes with a set of 10 removable spindles, ranging in size from 1/4 in. dia. by 5 in. long to 4 in. dia. by 9 in. long. Built-in racks allow for convenient storage of the spindles. I just wish there were also a place to store the wrenches and table inserts. The table is 36 in. high, which is a comfortable working height for me. All things considered, this machine has been a welcome addition to my shop.