Fein - Heavy-Duty Router RT-1800
Fein's heavy-duty plunge router features a variable-speed 3-1/4-hp motor with soft-start capabilities.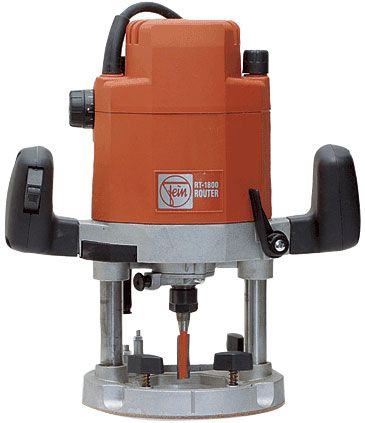 Midsized routers are hard to beat when it comes to versatility, but those who need a little more oomph might be interested in a new heavyweight offering from Fein.
The RT-1800 is a well-finished power tool. And in this case, form reflects function—because its controls and plunge action are notably smooth.
As you might expect from a machine with 3-1/4 hp and a 3-in. stroke, it is somewhat bulkier than a typical midsized plunge router. On the other hand, when you consider that this machine provides roughly 50% more power than a midsized version, it's surprisingly light at 12 lb.
The trigger-style switch is conveniently located (unless you're a southpaw) on the handle, with an auxiliary switch lock. Engaging this spring-loaded tab takes a little getting used to, because you have to roll your index finger downward after depressing the on/off switch. A light squeeze releases it, which is a nice safety feature.
Thanks to a spindle-locking button, it takes only one wrench to change a bit, although both hands are still required. The RT-1800 accepts only 1/2-in. shank bits.
Depressing the plunge-lock lever effectively locks the motor housing in place. For my hands, reaching the lever requires a bit of shifting, but it functions positively and predictably.
The router has a dial that adjusts to limit the upward travel of the motor. That's helpful when performing operations that don't require plunge cutting, such as moldings or rabbets.
In use, the Fein is smooth and powerful. The factory recommends restricting stock removal to 5/16 in. at a time, but that seems more about crisp, controlled cuts and cutter life than the limits of the router.
Runout measures only 0.0004 in., compared to an average of 0.00298 in. in a recent test of plunge routers. And the Fein earns a "good" vibration rating.
The variable-speed (8,000 to 22,000 rpm) feature is a plus, especially when working with villainous grain or splintery species or when using a big bit that has to be run at a slow speed. And a soft-start feature cuts down on kickback at start-up.