Fisch - Multi-Pattern Euro Jig
Fisch's jig for drilling European hardware accommodates all of the common hinge patterns.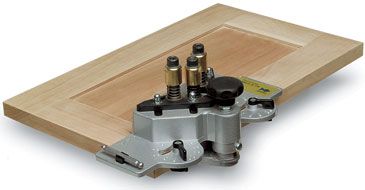 Jigs for drilling cup-hinge holes come in a variety of designs. Some offer stark simplicity at a low cost. Others are more sophisticated and come with a price that reflects that refinement. But all of the jigs have a couple of things in common. They get their power from an electric or cordless drill. And they serve as a surrogate tool for the drill press, supporting the 35mm bit when a drill press can't be used. Without that support, a large bit like this will skitter around the wood. These jigs are especially handy when you're faced with drilling cup-hinge holes in a door that's large and unwieldy, or if you're at a remote site where there's no access to a drill press. We gave seven of these jigs a workout to see how they would perform.
This top-of-the line Fisch jig drills all of the common hinge patterns. In addition to the 35mm Forstner bit, it comes with a 7/64-in.-dia. bit for the mounting holes; 5mm and 8mm bits are sold separately.
The bits for the mounting holes can be adjusted to any of eight positions. And once adjusted, a pair of metal pins ensures that the bits won't shift out of position. To establish the backset, just turn two short, plastic levers to the exact setting you want.
The Fisch jig is the most expensive of the bunch, but it has the hallmarks of a well-built tool, starting with a beefy cast-aluminum housing, which serves as the foundation for all the remaining parts. The Forstner bit cuts cleanly and quickly. As with Blum's Ecodrill, I'd use this one even if I had a drill press. This product is manufactured by Wuerth.