The Right Board in the Right Place
A guide to selecting the best wood for each part of a piece of furniture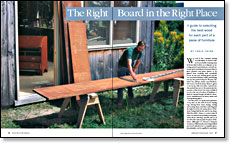 Learn how to select lumber for furniture construction in this article by lumber expert Louis Irion. He says wood is the star of a piece of furniture, and explains how to showcase grain and figure. With decades of experience building furniture, he shares what he's learned about lumber and selecting wood for parts of a piece of furniture. He uses a Newport secretary to illustrate this, but his instruction applies to any style of furniture. His tips include using lumber sawn from the same tree, using wide boards, and methods for organizing and stacking lumber.
From Fine Woodworking #140
Start your 14-day FREE trial to continue reading this story.