Stickley Done Lightly
Banquet-sized Craftsman table looks leaner in curly maple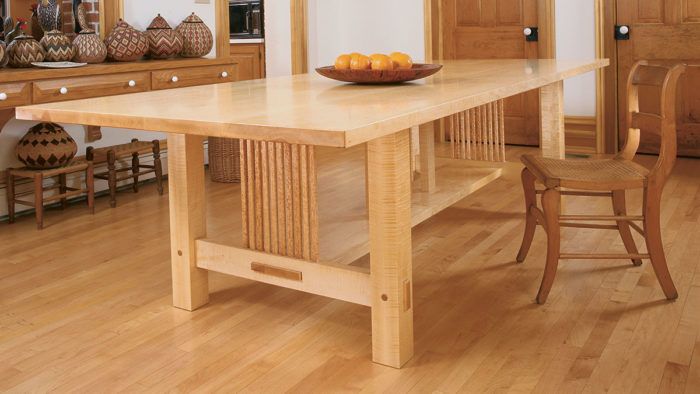 Synopsis: Rex Alexander adjusts a Craftsman table to reflect a lighter, more feminine air out of curly and bird's-eye maple. He explains here how he bought the lumber by the log to allow for book-matching, how to make square spindles with round tenons, and how to make variations on Stickley themes, as he did. He used a subtop to keep the base from racking, and he includes details on how he finished the piece with oils, polyurethane, and beeswax. A detailed project plan shows how he reinforced the mortise-and-tenon construction with pins and screws. Side information addresses surfacing wood if you don't have a jointer.
Craftsman-style furniture is traditionally made of fumed, quartersawn white oak. Gustav Stickley was one of the champions of the Craftsman movement, and his name is synonymous with a distinctive style of blocky, muscular furniture. In Stickley's 1909 book Craftsman Homes, he talks about native woods and how to use them. "Oak is a robust, manly sort of wood and is most at home in large rooms which are meant for constant use, such as the living room, reception hall, library or dining room."
The oak version of the table shown here was first featured on the cover of FWW #122. That photo illustrated my article about building an Arts-and-Crafts side chair. After the article was published, I received many calls—not about the chair, but regarding the table.
One client wanted a lighter, more feminine pick of wood: figured maple. She chose a design I had already used for an oak table. Its inspiration came from Stickley's No. 657 library table and Frank Lloyd Wright's rectilinear furniture. With a top measuring 48 in. by 110 in., it's meant for entertaining large groups. Even with bulky legs to support its mass, the use of curly maple (finished in a light tone) gives the table a more feminine, lighter presence.
Birds-eye maple was my customer's wood of choice. But I knew it would be nearly impossible to find birds-eye in the large dimensions required: 8⁄4 in. thick and 10 ft. long. We settled on curly maple. Birds-eye was selected as a secondary wood, and its use was limited to the spindles.
Buying lumber by the log allows book-matching
Finding 200 bd. ft. of curly maple in the lengths I needed also proved to be difficult, so I sought out a timber broker and sawyer. I decided to buy whole logs and have them resawn, which would take extra work and time. But it was worth the trouble because I was able to tell the sawyer just how I wanted the logs cut. Using wood from the same tree guaranteed that I would be able to match the figure and color.
My customer told me that she didn't want her table to appear "too bossy," that is, she didn't want it too wild with figure. So I had the logs flitchsawn (sawed completely through in successive layers). This method yields a combination of flat or tangential grain and quartersawn or radial grain. I ended up with boards that had a lot of curl in the quartersawn areas and calmer grain in the flatsawn areas. The areas of greatest curl were on the outside edges of the log.
From Fine Woodworking #130
For the full article, download the PDF below:
View PDF