Good Work
Outspoken and unapologetic, a Welsh chairmaker makes a plea for hand tools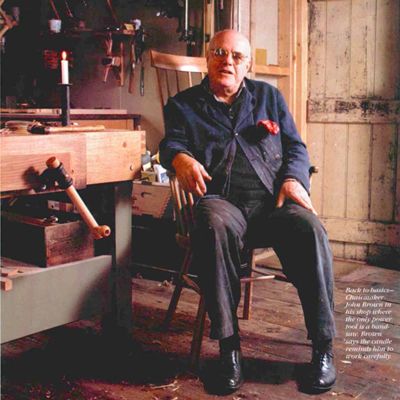 Synopsis: John Brown eloquently describes his love for woodworking using hand tools and points out the benefits of following suit. Any attempt to summarize his arguments loses his poetry, but here are his main points: using hand tools saves materials and prevents you from being surrounded by noisy, dusty, ugly machines. Machines were introduced to woodworking to aid quantity, not quality. Classroom time is no substitute for apprenticeship, and the human touch adds soul to a finished piece.
---
Extraction My grandmother used to tell me that most of life's ills were caused by men chasing money. Even 50 years ago, the poor old dear could not understand what all the rush was about. She had a theory that the heartbeat hadn't altered since time began and that the pace of life should be regulated by this fact. I didn't take any notice of her at the time, but recently, I've had cause to recall her words. The speed of modern life is out of synchronization with the human body. If we could slow our lives down a little, think of quality before quantity, there would be more time to savor the pleasant things before we are forced to rush on to something else.
Woodworkers are not excused from this malady. Every bit of literature, every handbill or periodical to do with the craft is packed with advertisements for machines. A young man interested in making things out of wood can be forgiven for believing that machines are a fundamental necessity. Hand tools have been relegated to the small advertisement section or antique dealers, as though they were relics of the past whose use went out with grandfather.
Save materials, and stay comfortable
The price of timber once seemed of little consequence. Now, with rain forest problems and a general scarcity, this has become a very against these ills. But to mummify yourself in this way can only be to the detriment of careful work. Picture, if you will, a cabinetmaker working on a fine piece of oak furniture clad in a hard hat. I am sure the sense of control of the operator is impaired by wearing all this safety equipment.
Machines aid quantity, not quality
The reason for the introduction of machinery in the 19th century was to speed up the production in the factories. Water, then steam and, finally, electricity provided ample power, and in that great age of innovation, machines were invented to cope with more and more process. The owners cared not a jot for design or quality unless it affected sales. Quantity was the main criterion. "How can we make more profit?" they asked Unskilled people could be trained to work a single-operation machine in days. The fact that these operators had no interest in their work and did the job for what money they could get interested no one, except people like John Ruskin, C.R. Ashbee and William Morris.
From Fine Woodworking #127
For the full article, download the PDF below:
View PDF