The Nakashimas
A family strives to continue the work of a premiere American woodworker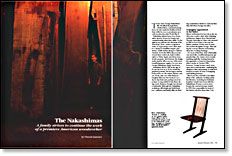 Synopsis: George Nakashima clearly loved trees. A walk through his estate proves that. His legacy and business survive him, and his family carries on the work he began. His daughter, Mira, is an accomplished architect in her own right and worked by her father's side for decades. The family still uses George's designs, but commissions are declining; a third generation stands ready, waiting for demand to increase. A short biography details George Nakashima's accomplishments.
Trees were George Nakashima's life. He hiked through them, climbed them, sojourned among them. He also made his livelihood from them while he rose to prominence as a craft woodworker after World War II.
Nakashima planted trees, lots of nonnative species chosen for beauty and companionship rather than utility. On the right as you pull into the driveway of his New Hope, Penn., estate is a Japanese cedar, or cryptomeria, a tree often used for columns in Buddhist temples and shrines. A little farther along is a Chinese chestnut. Down the hill by the pool are several dawn redwoods, leafy conifers native to China. Apple and cherry trees dot the property. And between the design studio and the office are two of the most beautiful Japanese maples I've ever seen. George Nakashima clearly loved trees.
Nakashima died in 1990 at the age of 85 (see the box on p. 95 for a brief biographical portrait), but his legacy and his business live on. His widow, Marion, and son, Kevin, take care of the finances. Daughter Mira runs the business on a day-to-day basis and, perhaps most important, is responsible for the firm's design work. Business, though, has slowed considerably. Although the Nakashima workshops still design and build furniture, craftsmen and family alike are finding commissions harder to come by than they did when George was alive.
A daughter apprenticed to her father
Mira is well-trained for her role as the studio's new creative chief. After obtaining architecture degrees from Harvard and Waseda University in Tokyo, she returned in 1969 to New Hope to become her father's assistant. For the next 21 years, she worked alongside George, often taking his concept sketches and turning them into working drawings.
For most of that time, their relationship was much like a traditional Japanese apprenticeship—the master never reveals anything explicitly, trusting instead in the apprentice to learn by observation. After a stroke in October 1989, however, George became much more open and communicative, explaining his designs to Mira and passing on what he'd learned in nearly 50 years of designing and building furniture.
Mira is not the only link to her father. Many of the craftsmen working under her direction, including her husband, Jonathan Yarnall, have been with the Nakashimas 20 years or more. Jerry Everett, the current foreman, started in 1970.
From Fine Woodworking #116
For the full article, download the PDF below:
View PDF