For Vibrant Color, Use Wood Dyes
Aniline dyes enhance figure, even out tones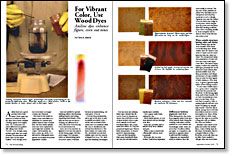 Synopsis: Finishing chemist Chris A. Minick calls aniline dyes a good product with a bad name. Dyes are useful for special finishing effects, like layering and toning and evening out differences in color. He offers safety tips first, and then talks about the differences between pigments and dyes and which water-soluble dyes have lasting color and clarity. You can customize stain color with oil-soluble dyes, and you can tint shellac and lacquer with alcohol-soluble dyes. Minick includes tips that reduce sanding time and explains how to adjust the color to suit the wood. He closes with special-effects tips and side information on the fading you should expect from dyes.
Aniline dyes are a good product with a bad name. Their nasty reputation is a holdover from the days when these versatile coloring agents were highly toxic. It's a misnomer not much different from golfers still calling their drivers "woods," even though many modern golf clubs are made of metal. Woodworkers still know dyes by the name "aniline," even though modern wood dyes no longer contain the chemical.
First used in the textile industry in the mid-1800s as a substitute for natural dyes, aniline-derived dyes worked fine, but they faded quickly and were soon replaced by more light-fast synthetic colorants. Unfortunately, the term aniline dye stuck. It is still used to distinguish transparent wood stains from their pigmented cousins.
Dyes are useful for special finishing effects, like layering (adding depth) and toning (applying tinted finish). Probably the best use for dyes is evening out differences in color, like those between sapwood and heartwood.
Dyes can work miracles on figured wood, but they aren't magic. For example, when an uninteresting piece of wood is dyed, it will just become an uninteresting, colored piece of wood.
You can buy premixed-liquid or gel wood dyes or mixit-yourself powdered dyes. I mostly use powdered dyes, which have an indefinite shelf life. Dye is classified by the solvent that dissolves it. The three classes are water-soluble, oil-soluble and alcoholsoluble dyes. Each type has finishing advantages.
You can even use ordinary fabric dyes. Brands like Rit can be found at department stores, but you'll have to mix or layer several colors to get more natural wood tones. Powdered fabric dyes sometimes have fillers, so I buy the premixed-liquid type. They're fairly inexpensive, so they're good for experimenting.
Dyes are less hazardous than many household cleaners, but you will still need to handle dyes carefully: • Use a paper mask when mixing the dye.
Wear rubber gloves, so you don't absorb the dye through your skin.
Keep dye powders and solutions away from children and pets.
When a dye is mixed with a flammable solvent, store it properly.
If you get dye on your clothes, wash them separately.
Differences between pigments and dyes
What distinguishes dye stains from pigment stains is the size of the particle that's doing the coloring. Individual colorant particles in a dye solution are exceedingly small—there are more than 10 million trillion per quart. In comparison, the particles in pigment stains would look like boulders.
Pigments are suspended when in solution; dyes dissolve totally in solvent.
From Fine Woodworking #114
For the full article, download the PDF below:
View PDF