Jobs a Shaper Does Best
Power and stability mean vibration-free cuts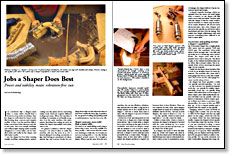 Synopsis: Lon Schleining is convinced that a shaper – more than a router table – should find a home in every active woodshop. He uses his shaper for four jobs: running straight molding, raising panels, pattern cutting, and doing radius work. He discusses the anatomy of a shaper and what accessories and tooling increase its capacity. He offers guidelines on safety and checklists, and on using jigs. Schleining explains how to use a shaper for each task mentioned above. Drawings and photos show you the steps.
I'm convinced that a shaper—more than a router table—should find a home in every active woodshop. Sure, the shaper is well-suited for heavy work, like forming deep contours and complex profiles. In fact, I use the machine daily to make custom hand rails, balusters and other stair parts. But even straight moldings and ordinary light shaping (tasks normally delegated to a router table) can be handled safely and easily by the shaper, and with better results.
I use the shaper for four jobs: running straight molding, raising panels, pattern cutting and doing radius work. Each job requires different tooling and setup. When the machine is molding, for example, you'd hardly recognize it as the same machine that raises panels. Spending time setting up each cut makes the shaper dependable and a pleasure to use.
I've gained confidence with the shaper because I do what it takes to make the machine safe. I haven't skimped on tooling, accessories or jigs. And having an assortment of cutters, guards, jigs and a power feeder lets me shape items that I would otherwise have to buy from a millwork shop. Jigs, in particular, are great for holding and guiding small or awkward pieces.
Shaper anatomy: more solid than a router table
I've tried to do stairbuilding work using a heavy-duty router, but in the middle of a deep profile, I discovered that the router was straining to make the cut. It made me nervous routing with a -in.-dia. bit that weighed several ounces. So I bought a shaper. When I put the same bit in the new machine, the cut was effortless, vibration free and just felt a lot safer. A big bit for a router turned out to be a small bit for a shaper. I still use a router from time to time, but the shaper is my tool of choice whenever possible.
Driven by a belt and dampened by lots of cast iron, a shaper just coasts through most lumber. Like a router table, a shaper has a cutter sticking up through a hole in a worktable. And many of a shaper's setups will be familiar to you if you've used a router table. But that's where the similarities end. A shaper is more solid and more powerful than a router table. Though a shaper turns at less than half a router's speed, the shaper produces a superb cut because there is less vibration. There are two reasons for this. First, most shapers weigh almost as much as a cabinet-model tablesaw (about 450 lbs.). Second, in most shapers, the cutter is fixed to a 1-in.- or -in.-dia. spindle, which is much more rigid than a -in.-dia. router bit shank.
From Fine Woodworking #112
For the full article, download the PDF below:
View PDF