A Small Bureau Built to Last
Opaque finish and applied moldings cloak a flock of dovetails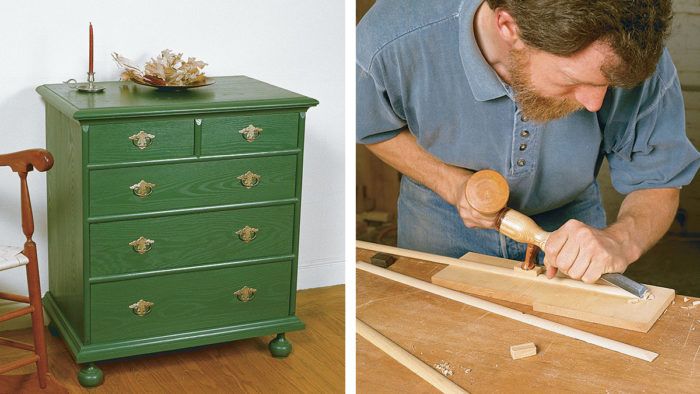 Synopsis: Tapered sliding half-dovetails lock the top to the sides, half-blind dovetails join the drawers, and all the dovetails work together to make a rock-solid small chest of drawers. Moldings hide its joinery and an opaque painted finish complete this 18th century-looking small chest. The author takes you through the building process with step-by-step directions.
The dovetail joint's prevalence and persistence is due to its unsurpassed ability to hold pieces of wood together. The painted chest of drawers I made (see the photo at left) illustrates the strength and versatility of the dovetail in a variety of forms. Tapered sliding half-dovetails lock the top to the sides; half-blind dovetails join the sides to the bottom; sliding dovetails link the drawer dividers to the sides; and through- and half-blind dovetails join the drawers (see the drawings on pp. 56-57).
All this dovetailing makes the piece rock solid, but it is hidden strength. The chest has an unimposing scale that suits it to a living room, where it could stand at the end of a sofa and serve as an end table as well as a bureau. The moldings that hide its joinery are clean and simple, particularly the single arch molding on the front of the chest with its bird's-mouth joints at the drawer dividers and its tapers, top and bottom.
Construction
I began the chest by gluing up material to form the top, bottom and sides. I used ash, a ring-porous, coarse-textured hardwood. Because I intended to paint the piece, I wasn't too careful about the color match of planks. But because the wood's coarse texture would show, I took pains to ensure figure and grain were consistent between the boards to be edge-glued.
A strong, self-locking joint—I used tapered, sliding half-dovetails to join the case sides to the top (see figure 1 on p. 56). This joint is excellent in a situation where one case member runs past or overhangs another. Its advantages are many: It is self-locking, so it will hold both pieces rigid and flat even if the glue should fail; it won't bind in assembly; and it is strong. The half-dovetail is a variation on tapered sliding dovetails in which the pin seen in cross section has only one wedged side; the other side is simply a rabbet that tapers from one end of the joint to the other.
From Fine Woodworking #109
For the full article, download the PDF below:
View PDF