Easy Veneering with a Household Iron
Dried glue, heat and pressure bond a lovely wood skin onto any project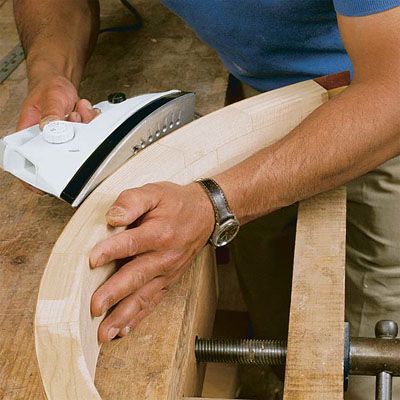 Synopsis: Mario Rodriguez explains how to glue down veneer and keep it down using waterproof yellow glue and an electric house iron. He talks about the reasons for using waterproof glue, why it doesn't slip during setup, and how his method prevents bubbles. You'll learn about cutting and taping the veneer, applying the glue, and ironing and trimming the veneer. A side article by Chris A. Minick explains how thermoplastic adhesives work.
Being able to veneer can dramatically extend the scope of projects available to a woodworker. You can take veneer, a beautiful but unstable material, and apply it to a solid, flat substrate. You can also repeat or book-match patterns for a spectacular effect. But what's the best way to glue down the veneer and keep it down?
Mentioning traditional techniques of hot hide glue and a veneer hammer produces accelerated pulses and sweaty palms for most woodworkers. In my veneering workshops when students get over their initial fear of gluing veneer, they are okay.
But when I visited former apprentice Ken Vigiletti, he turned me on to another way of applying veneer using waterproof yellow glue and a household electric iron (see the photo on the facing page). At first, I was skeptical. But after seeing a demonstration, I was anxious to get back to my shop to give the technique a try. And the project I had in mind—a small half-round hall table that I wanted to cover with sycamore veneer—was perfect because veneer would enhance the table's form (see the photo at right).
Vigiletti's demonstration was not the first time I'd seen veneer adhered with an iron. The technique also appeared in FWW #87, p. 66. But in that article, the author applied white glue to the substrate, and then he immediately ironed on the veneer. With that method, the veneer can slide on the wet glue, causing misalignment and gaps at the seams. By contrast, when you heat the dry glue through the veneer, it adheres in place right away. And water is less likely to evaporate out of the glue and through the veneer, causing bubbles.
About the adhesive
The main appeal of veneering with yellow glue is that many of us use it daily. With yellow glue, you don't have to worry about water-to-glue ratios, soaking time, temperature, hammering pressure or the mess associated with hide glue. And by using an ordinary iron, there's no need for a vacuum bag, an expensive press or any complicated clamping cauls. But because I wasn't keen about the idea of having to redo the veneer if the bond failed, I was still hesitant about heating waterproof glue with an iron. So I asked one of Fine Woodworking's regular contributors, Chris Minick, about the process. Minick, a research chemist, heartily endorsed the technique (see the box on p. 50).
From Fine Woodworking #108 
For the full article, download the PDF below:
View PDF