Laying Out a Workshop
Planning for workflow and flexibility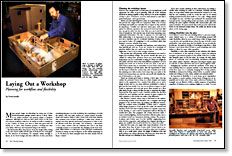 Synopsis: Scott Landis visited dozens of professional and amateur shops to evaluate the basic systems that constitute most modern workshops. He asked shop owners to share how they foster efficient workflow and safety, and he notes how workshops evolve to accommodate changing needs. This article discusses principal considerations in laying out workspaces and shows three examples from among those he visited. Landis talks about planning the layout, adding flexibility, and the importance of workshop triangles and dedicated spaces. The shops he details show how to work in a small space.
Many people begin woodworking by using part of their house-basement, garage, pantry, attic-as a shop. There is no perfect location; one person's dream is another's nightmare. Although you may not have much choice in the location of your workshop, what you do within its walls is entirely up to you. (Unless, of course, you have to share that space with the family car or three other business partners.) Nothing less than your safety, efficiency and enjoyment hang in the balance.
The factors that affect shop layout—from the height of the ceiling to the size of your wallet and the type of work you do—vary greatly. The selection of machinery, for example, relates strongly to layout, as do wood storage and dust collection. In fact, just about everything that goes on in the workshop has something to do with the subject. This was quite evident as I visited dozens of professional and amateur shops to take a close look at the basic systems that constitute most modern workshops. I asked shop owners to explain how they selected and located equipment in order to foster efficient work flow and safety. The workshop, I discovered, is not a static creature. Like the craftsman who uses it, the shop constantly evolves to accommodate the changing needs of its occupants. What follows is a discussion of the principal considerations involved in laying out any workspace.
Planning the workshop layout
If you've ever chopped tails on both parts of a dovetail joint, you'll appreciate the value of good planning. With all of the elements involved in putting together a shop, which is a lot more complicated than a piece of furniture, you'd be well advised to start with a pencil and paper, and a good eraser.
Before you start sketching floor plans, it's a good idea to make a few priority lists. Begin with your equipment. Make a list of every tool (large and small) you currently own or expect to buy, and rate its importance. Consider not only how much space each tool requires for efficient operation—the most you'll need and how little you can get by with—but also how often you use it and for what sorts of operations. This exercise may reveal some surprising, even unpleasant information. The size or expense of a tool may bear little relationship to its importance in your shop. For example, if you use a bandsaw only for occasional resawing of heavy timber, you may be better off consigning it to the woodshed rather than having it consume valuable shop space.
Take an inventory of materials and hardware, and review how they typically get used up. If you are overrun by a mountain of precious lumber that you rarely use but hate to part with, you might take a hard look at other storage solutions.
From Fine Woodworking #91
For the full article, download the PDF below:
View PDF