Making a Writing Desk
Customizing a leg-and-apron table with drawers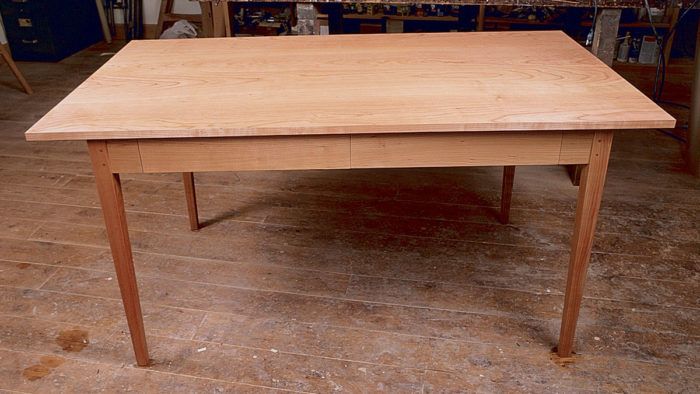 Synopsis: Christian Becksvoort explains how to make a basic leg-and-apron desk (basically a table with drawers). This piece has two drawers, but the number and layout can be altered to suit the function of the table. He starts by gluing up the tabletop after arranging the boards for best color and figure regardless of grain orientation. He talks about cutting and shaping the legs, designing and installing the apron, installing drawer guides, and making the drawers. A dimensioned project plan shows the joinery.
To me there are two types of desks: storage desks and writing desks. Storage desks, slant-tops, roll-tops and other "instant offices" consist of multitudes of drawers and pigeon holes designed to house not only pen and paper, but also ledgers, stamps, files, folders, books and various office supplies. On the other hand, writing desks like the one in the photo on p. 66 are multifunctional pieces of furniture consisting of a table with a few drawers built into the aprons. These desks are ideal for the kitchen, dining or work room, or even a regular office, where you are more concerned with having a large, usable work surface than with lots of storage space.
The writing desk described in this article is basic leg-and-apron table construction. An advantage of custom-made furniture is that it can be made to fit specific requirements. I usually make this writing desk with a 36-in. by 72-in. top, but to fit into a smaller room, this one was scaled down to 32 in. by 60 in. It overhangs the base by 6 in. on the sides, 2 in. at the back and only 1 in. at the front for easier drawer access. My desk has two drawers, but the number and layout of drawers can be altered to suit the function of the table. One drawer in the middle will suit for most purposes, although you may wish to have two identical drawers fit side by side, as shown in the drawing at right. For a three-drawer table, I usually put one big drawer in the middle and two smaller ones on either side. The side drawers can then be pulled out without moving the chair while working at the table. On a kitchen table or partners' desk, the drawers can be on opposite sides by using half-depth drawers back to back or full-depth drawers side by side in a variety of configurations. Another alternative is to place the drawers on the ends of the table.
In any of these designs, I always try to make maximum use of the space available. If the distance between the aprons is 30 in., make the drawer 29 in. deep, and then put a false back at 18 in. or 20 in.
From Fine Woodworking #81
For the full article, download the PDF below:
View PDF