Shopmade Bandsaw
Plywood and basic tools built the saw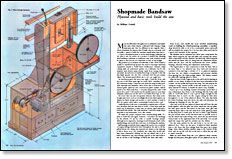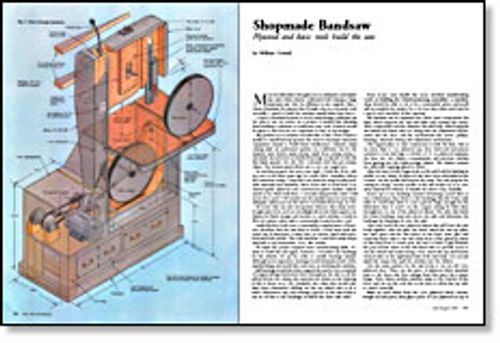 Synopsis: William Corneil says a bandsaw can do everything a tablesaw can do, and it can cut curves. So he made his own. Here, he explains why and how he did so. His saw can even go slowly enough to cut iron. The project involves some basic metalworking skills, and he recommends improvements over his own model, such as using roller or needle bearings instead of bushings for the wheels. He breaks the construction down into three components: the base, the saw body, and the mechanicals. His base is plywood screwed to four 4×4 legs. This detailed article describes every step of building a bandsaw.
Most woodworkers' thoughts turn to tablesaws and radialarm saws when they're confronted with buying a large stationary saw. But I'm different in two regards. First, I chose a bandsaw, for reasons that I'll make clear in a moment. And, secondly, I opted to build the machine…
Start your 14-day FREE trial to continue reading this story.