North Bennet Street Industrial School
Learning cabinetry the traditional way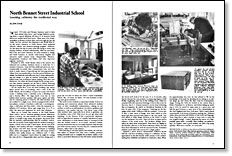 Synopsis: At Boston's North Bennet Street Industrial School, students learn to design and build furniture in several 18th-century styles — Queen Anne, Chippendale, Sheraton, Hepplewhite, Seymour, and Duncan Phyfe — and their regional variations. The article describes the machines used and gives a tour of the drafting room and workshops. There are no formal class sessions at the school, and no universal grading periods. The waiting list is about a year long, and the course lasts 18 months, after which the students become proficient at building chairs, tables, and casegoods, as well as complex projects. The article also details the projects they undertake in this practical, hands-on learning environment.
From Fine Woodworking #28
"Around 1795 John and Thomas Seymour used to have their cabinet shop here," said George Fullerton, pointing down a narrow alleyway off Union St. in Boston's North End as we strolled back from lunch. "There were a lot of cabinetmakers in Boston in those days, and even right up into the 1920s, but few survived the Depression and World War II." As the senior instructor at North Bennet Street Industrial School's cabinet and furniture-making program, Fullerton, 78, has spent the last 30 years of his life trying to rescue that waning tradition of hand craftsmanship. With his associates, Phil Lowe and Lance Patterson, he trains students to design and build furniture in several 18th-century English and American styles — Queen Anne, Chippendale, Sheraton, Hepplewhite, Seymour and Phyfe — and their important regional variations.
Founded in 1881, North Bennet Street is the nation's first industrial arts academy. Students choose to study here for a number of reasons. Some feel that traditional pieces are more commercially successful than contemporary ones, and they want to make careers of reproducing and restoring antiques. Others don't necessarily plan to become period-furniture specialists, but think the most effective way to learn cabinetmaking and design is to gain an intimate knowledge of established forms and techniques before striking off in their own directions. Yet others are moved simply by the strong conviction that classical examples are the best to follow, believing that good designs, like good lumber, should be well seasoned.
On the fourth floor of an old brick building (the school hasn't moved since its founding), with a view of the Old North Church, the woodshop occupies six rooms—two bench rooms, a drafting room, a machine room, a finishing room and a faculty office. The large bench room has its own hollow-chisel mortiser, grinder, drill press, jigsaw and table saw for trimming pieces to final fit. All other machine tools are confined to a single room, which is equipped with a thickness planer, a jointer, a bandsaw, a table saw, a mortising machine, a drill press and three lathes. Given the maximum enrollment of 30 students, whose ages range from 18 to 55 or older, the space and equipment are more than adequate.
For the full article, download the PDF below:
View PDF